Robotics presentation became more diverse and more practical at Skoltech. As the 3rd term of the academic year came to its end, Skoltech students presented their projects created in the robotics laboratory, at the final seminar "The Age of Intelligent Machines" of the "Dynamic systems and control" course.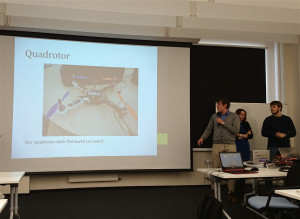 Five teams of prof. Dzmitry Tsetserukou's students showed the originality of solutions and real commercial potential of projects, including UVP project –  SwarmAir/Quadcopter control, run by Ivan Kalinov, Stanislav Kruglik, Daniil Merkulov and Anastasia Vasilenko. Team advisors were: Evgenii Tsykunov, Yuri Sarkisov, Anastasia Uryasheva and Nikita Rodichenko.
Apart from their knowledge, creativity and dedicated staff of teachers and advisors, the students had for their disposal both the new Robotics lab, and a special grant. Prof. Tsetserukou expressed his appreciation and gratitude for that: "I want to thank Igor Seleznev, Director of Research Programs. Thanks to a UVP grant , one team was able to develop a guidance system based on monocular visual odometry. The system uses a web camera to determine the position quadrocopters, without the use of GPS-sensor".
Read more here.